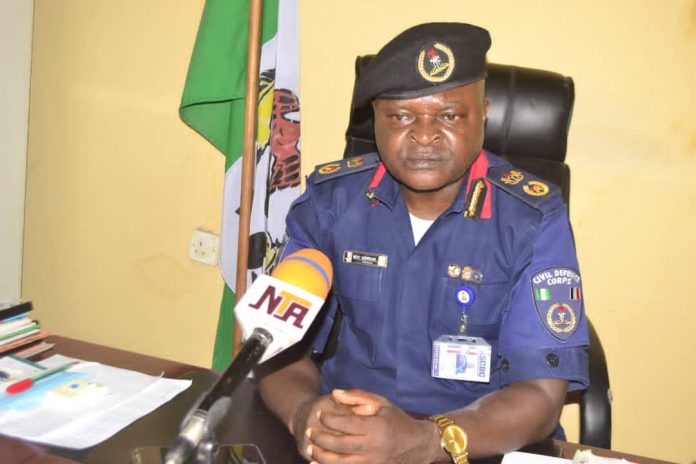 Clergy, NSCDC hold combine thanksgiving Service in Taraba
Jethro Yerga, Jalingo
ST. Augustine Catholic Church Jalingo, Sunday went agog as the clergy of the Catholic church extraction and officers of the Nigerian Security and Civil Defense Corps NSCDC Taraba State Command, alongside their relatives, well-wishers and friends met in a service to glorify God through thanksgiving.
While the Taraba State Command of the NSCDC led by their commandant, Edwin Egwuja were at the church to give thanks to God as part of the activities marking their usual Celebration of the World Civil Defense Day, the clergy who kitted themselves in their priestly apparels, accompanied the newly ordained Rev. Father Kingsley Emeka Dominic for his thanks giving and first mass celebration.
Addressing people at the occasion, the newly ordained Rev. Father Kingsley Emeka Dominic who was overwhelmed with joy, appreciated God for bringing to pass, the very day he long longed for in his life time.


Father Emeka who equally applauded his colleagues and the other people who accompanied him for the event, pledged that he would serve God with all his might and wisdom throughout his life time and called on the young ones in the various seminaries around the country to always look up to God who is the only author and finisher of their faith.
On his part, the Commandant, NSCDC, Edwin Egwuja said they were in the church to acknowledged God's divine mercies and protection on the agency as a member of the International Civil Defense Organization whose Headquarters is in Geneva, Switzerland.
"Nigeria Security and Civil Defense in Nigeria happened to be the 66th member of the International and Civil Defense Organization. On the first of March every year, we celebrate World Civil Defense Day. As part of activities marking our usual celebration this year, we started with a Jumat service on Friday, and today we are here for a Sunday Service to give thanks to God for all He has done for us". He stated.
The Commandant who said the grand finery in respect to their Day would come up on Tuesday, the first day of March, 2022 identified some of the major land marks the Taraba State Command had recorded in the state under his watch.
"We have achieved a lot during the 9 months that I have been in charge of this command. We have arrested cultists at Taraba State University. We have equally arrested several kidnappers and handed them over to the Nigerian Police Force for further investigation and prosecution.
"few months ago, we foiled a kidnap attempt aimed at the Executive Secretary of Taraba State Primary Health Care Agency. His wife was eventually kidnapped but due to the gallant officers we have in place at the command, she was rescued and Some of the kidnapers escaped with wounds.
"We have also arrested many criminals who are engaged in vandalizing public properties and even on the issue of fuel scarcity, we have been going round to ensure that there is availability of fuel in the state. we know that some feeling stations are holding fuel and that is why we go round to ensure that those who have fuel in their feeling stations release them for sale.
"Of course it is because of our commitment to the protection of lives and properties of innocent citizens of the state that Taraba State University Jalingo, has given me an award". He added.
The Speaker, Taraba State House of Assembly, Professor Joseph Albasu Kunini in a good will message, encouraged clergies in Nigeria to sustain their immutable life style throughout their days of service in the Lord's vineyard.
The speaker who described Priests as a symbol of spiritual life, maintained that many eyes, including those of the young ones, the weak in spirit, the vulnerable and the old women are always focused on them and so it beholds on them to consciously live a life worthy of emulation by the young ones.
Earlier in a homily, Very Rev. Father Peter Hassan, encouraged priests to care for their people and to be always conscious of their choice of words as they interact with them on daily basis.
The priest who lift his message from the book of Luke 6:39-45, equally challenged brethren to always pray for their priests and never constitute a reason for their down fall.